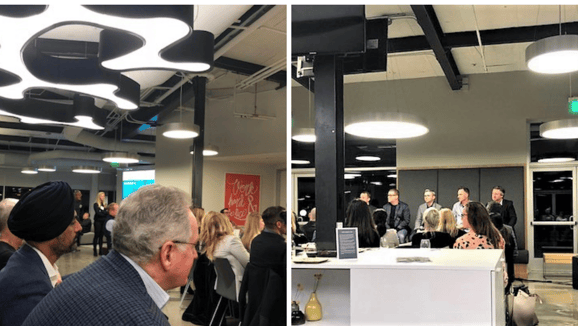 Recently a panel of top office design professionals convened to discuss "Reworking the Workplace" at an event produced by the Registry, held at One Workplace in Santa Clara. The group included directors of global design and senior managers from Airbnb, Atlassian, Forge, Google, and LinkedIn, with a panel moderator from T3Advisors.
The team of Silicon Valley experts shared perspectives on a variety of workplace design topics, including changes in design process, the role of IOT, planning for crowd flow, and ways to support local community business. After attending the session, here are BarkerBlue's 7 main takeaways from the panel:
Workplace design is now directly connected to the branding mission. Facilities managers are now more of a creative-space solutions provider, helping to ensure the company's brand and culture are clearly communicated in the business work space.
Workplace design's prime focus continues to be on engaging employees and the people using the space. This means creating environmental design to foster employee comfort, innovation, and productivity in each space. Gone are the old days of offices geared only for corporate convenience or profit at the expense of employee satisfaction.
The design process now incorporates extensive team collaboration and partnering with more internal and external teams. This ensures the design fits the needs of the majority of workplace users, as well as meets the client objective. More companies are including design input from UX designers, from outside architects (in addition to their own), from office furnishings professionals, Environmental Graphics Design (EDG) experts and always from direct client feedback.
"Don't screw the customer!" Regardless of who is on the design team, the panel cited a golden rule: "Don't screw the customer or client!" Be sure to talk to the customer and listen for direct client feedback on what they need for the space. Ensure your design plans drive to that. Don't assume you know the full design or workplace objective without asking your customer before you start your plan, and checking in along the way.
IOT in design should be used as a tool only, not to replace the human intelligence and direction from an architect. For instance, using IOT to map intricate routes people take without an architect's oversight could really take your plan on a wrong turn. You need to ensure the human touch and connection to the real-world space is not lost. Architects can provide the thoughtfulness on what the human experience of being in a given space means. IOT can provide helpful data, but it needs human interpretation for effective use in design.
Designing for crowd flow for indoors/outdoors is essential. Google stressed it is essential for large campuses to design for and take into account crowd flow, especially at peak times of the day when as many as 5,000 Google employees or more could be circulating in one area. Wayfinding signage was cited as Google's key solution to manage crowd flow and to help direct people throughout the campus.
Encourage Employees to Get Out and Support Local Area Business The panelists acknowledged the need to support local commerce and shared examples of how some Silicon Valley companies currently do that. Airbnb hosts a variety of community events taking place at local businesses. Square and other companies close their building's kitchen on certain days of the week to encourage employees to go out and dine at local area restaurants.
In addition to the above tips for reworking the workplace, there's one last tip to add from outside design experts: Consider Incorporating Environmental Graphics into your design to take it from good to outstanding. As noted in Corporate Décor, Interior Design (by Eric Rutin, April 16, 2018) :
"...One of the hottest trends for the modern office is the use of bold and colorful environmental graphics…Environmental Graphic Design (EGD) is quickly becoming a core component for interior designers to convey the soul of an organization, not only with their color pallet, but also encapsulating their ideals and beliefs. EGD can help ensure the entire team is connected to the organization's goals and principles through a dynamic wall mural with the company values or timeline depicting key milestones."
Environmental graphics are one way to make a good experience great, by introducing inspiration, meaning and purpose into the workspace, as well as brand authenticity.
Jennifer Gebhardt, Gensler Project Manager/Brand Strategist
For more information on Environmental Graphics, or other Display Graphics solutions see https://barkerbluecreate.com. To discuss incorporating Display Graphics into your workplace Contact Us Here.