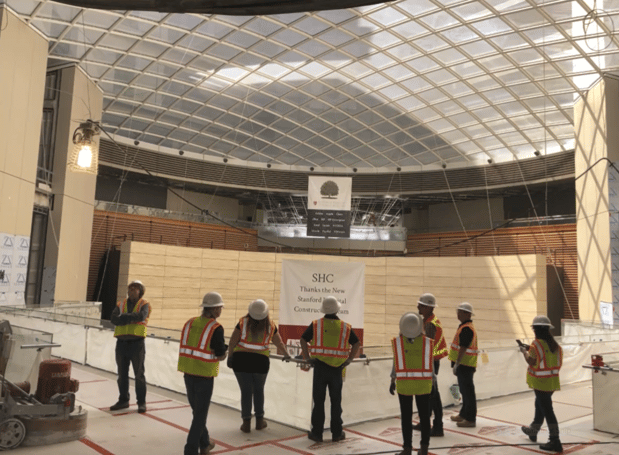 It's not often that you get a chance to see a trailblazing state-of-the-art medical facility in the making, but BarkerBlue had the privilege to do just that. Two teams of BarkerBlue employees recently were treated to a tour of the New Stanford Hospital construction site. See our brief video below for our inside view of the new hospital in the making.
"Stanford Health Care is building this revolutionary new hospital facility to accommodate advances in medical technology, increase capacity needs, meet new seismic safety requirements and transform the way that patient care is delivered." (www.sumrenewal.org)
"The 824,000-square-foot hospital facility was designed by internationally-recognized firm Rafel Vinoly in association with Perkins Eastman. Construction of the hospital is currently underway and officially broke ground on May 1, 2013. The facility will be connected to the existing hospital by bridge and tunnel. Stanford Health Care remains fully operational during construction. The New Stanford Hospital is expected to open for patient care in 2019...The hospital will house an additional 368 beds, bringing the total to 600 on site, and the new Emergency Department will have twice the floor space of the current facility. The new hospital will feature natural light, rooftop gardens, and the latest innovations in green technology to reduce the hospital's environmental impact."(www.sumrenewal.org)
BarkerBlue is proud to have provided Construction Information Management to help support the building of the New Stanford Hospital. See https://barkerbluebuild.com/ to learn more about BarkerBlue Build, and how our services help reduce Cost, Risk and Time of construction projects.