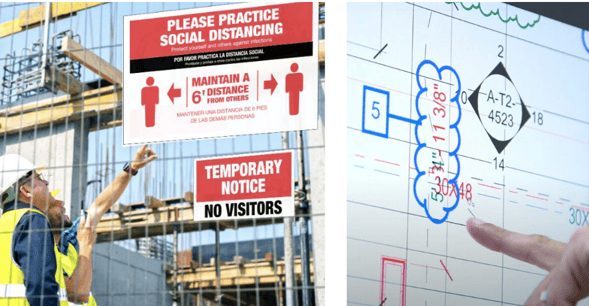 It seems obvious, but worth repeating in these times: Business productivity and profitability are deeply intertwined and dependent on each other. Up your productivity and profits typically follow. However, with Coronavirus stuck on the horizon for sometime, its posing new challenges to construction progress and profit. The current conditions beg for a look at different solutions to overall productivity. But first it's worth taking a quick read on the construction industry post CoVid to find a good place to start making immediate impact.
Construction Recovery Underway
"Statistics are indicating construction work may be approaching precoronavirus numbers, according to data collected by Procore and the Associated General Contractors of America (AGC). The majority of states and cities are seeing this change, which AGC Chief Economist Ken Simonson said could also be attributed to the warmer weather increasing the seasonal demand of construction work...

The commercial construction industry has dealt with several tumultuous months," said Simonson, adding that while the industry has been able to continue, it has not been immune to the effects of the virus." (Construction Dive)
Project Challenges Now Multiplied
Like most businesses impacted by CoVid-19, construction companies are now facing many more hurdles to driving progress. Aside from project cancellations, a big challenge that's likely to stick around is increased project delays.
According to a recent survey of contractors by Dodge Data & Analytics, a full 67% of general contractors are experiencing project delays post CoVid-19. These delays are apt to become a constant, exacerbated by the longer time required onsite to ensure CoVid screening and safety rules are being employed. Plus some project locations must drastically limit the number of workers allowed on the job-site each day. This wreaks further havoc on completion timelines and overall productivity already damaged from previous shut-downs.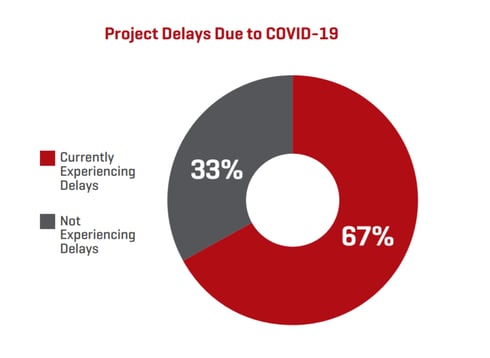 Plagued with less workers, and ongoing slow-down of onsite work due to CoVid-19, how can a general contractor now drive profits?
As construction companies re-adapt, many are turning to productivity options that don't require in-house hiring. One key proven solution: Outsource Construction Document Management to boost productivity and profit. Before dismissing this as just added cost, consider that this type of outsourcing can easily be included in your contract General Conditions, plus can help reduce risk of much higher costs due to unchecked document errors.
5 Key Ways Outsourcing Document Management Can Help

1. Reduces Project Delays with 100% Document Focus




Construction Project Engineers and Project Managers have little time to focus on plan documents due to higher priorities and increasing demands in the field.

Using

outsourced professionals, certified in your planning applications,

gives you dedicated full-time focus on your critical information to ensure it's updated and distributed in a timely manner.

Instead of splintered time spent on documents from an internal staff member with a trillion other things to do, who may not be highly-trained in planning apps, your documents can now receive full-time attention from certified construction document experts. This shifts a critical component of your project out of low-gear, and stops wasting time waiting on plan updates.
2. Improves Plan Accuracy & Communication to Avoid Rework


According to a PlanGrid & FMI joint study,

rework due to errors and miscommunication accounts for a full 52% of all rework costs.

This type of detrimental rework can be avoided by ensuring your plan is fully error-checked, accurate and current to the latest point in time. Using an external team of certified construction document managers reduces error, increases plan accuracy,

and ensures your whole team works from the most current plan set at all times.
3. Refocuses Your Team on High Project Priorities in the Field


Project challenges in the field often call for immediate focus from the General Contractor's Project Engineers or Project Managers. This can be especially true now with more on-site operational demands post CoVid. Redirecting your document management to certified experts will free up your team for high-priority tasks that require more immediate attention. This promotes faster overall progress and increased productivity. While your on-staff team is driving field progress, the outsourced document team is pushing forward on your plans, keeping all wheels in motion together. The extra hands ensure concurrent progress, plus a trained objective eye on your plans, which can ramp up productivity faster.
4. Streamlines Change Management, Reducing Disputes & Claims

Most construction contractors get multiple Change Orders and RFIs with each project. Staying on top of the constant flow of change documents and correspondence is essential for project success, but takes a lot of staff time often better reserved for other critical work. Outsourcing ongoing change management and flow of associated documents not only speeds up turnarounds, but also creates complete d

ocumented logs that can provide much-needed proof to resolve disputes an

d prevent claims.
5.

Expedites Your Payment with a Ready Close-Out Package

Last, but not least, using external construction information managers means you can get a full documentation trail of all phases of the construction project. This should include complete verifiable audit-trails, plus a thorough organized archive for future reference as needed. When it's time to provide a close-out package on the project, all the documentation is ready to hand off for quicker close and pay-out. This also frees you up sooner to move onto the next project or pursue new ones.
Of course not all external construction document managers are the same, so you'll want to do a careful review of all the services and benefits offered before selecting your best fit. There are lots of things to look for to ensure quality service for your construction information management. The first is to make sure the company has ample experience and knowledge with managing construction plan documents specifically, but there are several other criteria you need to look for. To help you with your review and selection, see BarkerBlue's interactive Checklist for Choosing Quality Construction Document Management
No doubt GCs are keenly aware of how essential streamlined productivity is to their profit. But with CoVid-19 operational hurdles and project delays looming, many are hunting for focus-areas in their business to accelerate productivity fast. Construction Information Management is one of those areas. Having the most up-to-date accurate construction plans at hand is a cornerstone to driving work productivity and profit. Outsourcing the management of those plans can be cheaper, easier and more effective than handling it in-house. It's a great way to quickly start driving up your construction productivity to regain your profit momentum.
For help with your Construction Document Management BarkerBlue Build is here to support you, and offers free consultations. We help construction project teams better manage their construction information and collaborate more efficiently by stabilizing 2D and 3D drawing information within leading enterprise platforms and systems. Learn more at: https://barkerbluebuild.com/