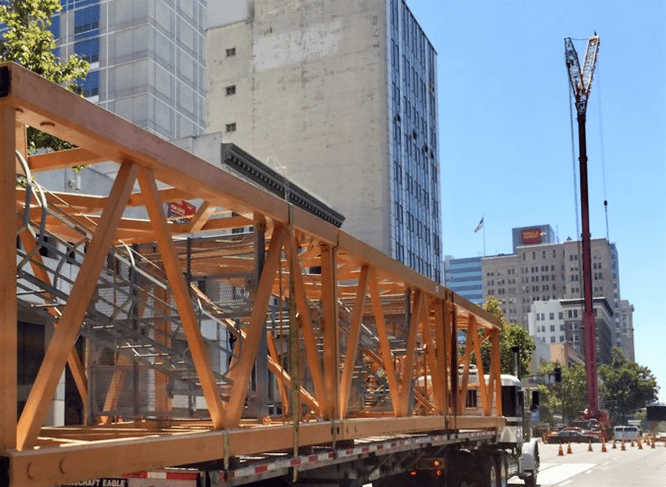 For years the city of Oakland got shoved to the back of the popularity line behind San Francisco, its assets often ignored. But today that dynamic is changing. The Bay Area's building boom spread rapidly to Oakland, in part fueled by the growing millennial population who seek urban convenience at a more reasonable price.
"Experts say that Oakland, unlike San Francisco, is uniquely positioned to draw thousands of jobs to its downtown because of its affordability and central location, not to mention its celebrated cafes, bars, and restaurants...And the image issue — that's no longer much of a problem. "The positive image that Oakland is projecting is a really big part of this," said Manan Shah, the Oakland studio director at architecture firm Gensler. Shah and his colleagues have played a big role in envisioning several of Oakland's most ambitious developments, among them the Eastline and The Key projects." (Oakland Magazine, 9/19/18)
On the Oakland horizon are several construction projects expected to bring expansive new retail and office space, plus developments that will enhance the city's cultural experience. For example the Eastline Project and 2201 Valley St. both plan to include space for the arts community.
As outlined in Oakland Magazine, here are some of the developments that will add millions of office space square footage to absorb the increased demand from businesses across the Bay. Also listed are several mixed use/retail projects.
NEW LARGE OFFICE SPACE
Location:

601 Oakland City Center

at

601 12th St.

Developer:

Shorenstein Properties
24 stories, 600,000 square feet of office space with projected completion in 2019. Blue Shield is signed as an anchor tenant.
Location: The Key at 1100 Broadway, near 12th St. BART by the Key System Railway landmark. Developer:

Ellis Partners
18 story high-rise office building, 345,000 square feet, with a 8,000 sq. ft. rooftop deck. UC Office of the President will lease some of the lower floors.
Location: Eastline at 2100 Telegraph Ave

., adding 1.57 million sq. ft. of office space.

Developer:

SUDA, Lane Partners
Over a million and a half square feet, this will be the largest sq. footage building in Oakland. It will occupy an entire city block adjacent to the Paramount Theatre. 18,000 square feet will be used as community arts space.
Location:

2201 Valley St. – A proposed 420-foot, 760,000-square-foot office tower in Uptown. Developer TMG will upgrade the Valley Street edge of the property for First Friday events, pop-ups, and outdoor dining.
Location: 325 22nd St. – Two Kaiser Center projected to add 1.1 million square feet in office space.
Location: 2150 Webster St. – Renovation on this 10-story office building to complete in 2019.
MIXED USE/RETAIL SPACE
Project:

Brooklyn Basin Developer:

Signature Development Group
Brooklyn Basin is nearly here, a giant development with 3,100 units on 64 acres. The largest development in years, it will feature thousands of new apartments, retail shops, and waterfront park acreage. Once finished, cyclists can ride bikes on a new section of the San Francisco Bay Trail, connecting Jack London Square with a stretch that goes along San Leandro Bay. The area's first residents and retailers can begin moving in next year.
Project:

Uptown Station

– Oakland investment group CIM expects to add 35,000 square feet of retail space to the ground floor plus office space.
Project: Broadway/Valdez – Adds 1,800 housing units, plus more than a million square feet of retail space, a new hotel, and 700,000 square feet of office space to the Auto Row area along Broadway.
Project: 500 Kirkham St. – 1,032 apartments next to West Oakland BART Station with 44,000 square feet of ground-floor retail space; it is currently in the planning stages.
As Oakland undergoes this exciting building boom, developers and construction companies may feel pushed to expedite planning and build deadlines despite continued lean staffing in the industry. At the same time project managers overseeing new buildings may be asked to help find inexpensive ways to infuse an integrated-design-look melding the exterior with the interiors of their new buildings. BarkerBlue is uniquely qualified to help in both these areas, with expertise in Construction Information Management and in Environmental Graphics. Our two specialized teams can collaborate with managing plan data and documents, plus create Environmental Display Graphics to transition building interiors into a cohesive engaging experience. Learn more at https://barkerblue.com.