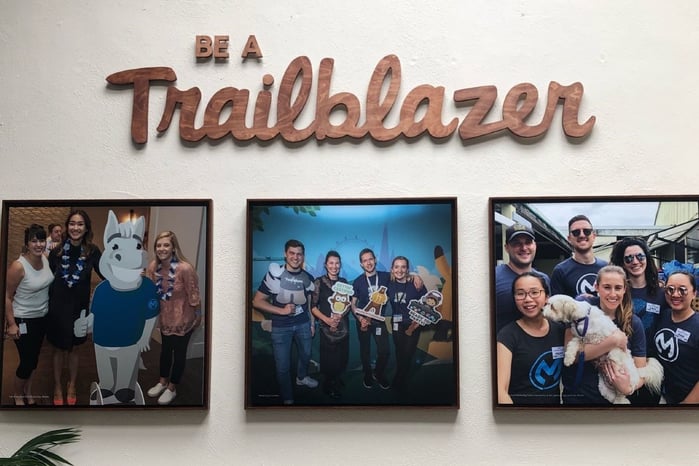 BarkerBlue is proud to continue their partnership with Salesforce to create display graphics that recognize their Trailhead program, plus celebrate the Trailblazers who completed the Salesforce training path. We recently partnered with Salesforce to add new dimensional logo signs and photo galleries to their office locations to help expand the Trailblazer brand presence.
"Trailhead is Salesforce's free online learning platform devoted entirely to teaching people how to use Salesforce. Rather than spending hundreds of dollars on an IT certification or paying a couple of hundred grand to get a degree in IT, Trailhead is designed to democratize learning by providing free access to building Salesforce skills." (PC Magazine, January 19, 2018).
With over 600,000 users, Trailhead is growing even quicker than you might imagine (think triple rates year over year!) In just one full year's timeframe the number of people who finished training (aka Trailblazers) completed as many as 20 million challenges on the platform, and received 5 million badges in recognition of their accomplishments. There is no charge for anyone to use the Trailhead training.
"Salesforce is hoping that Trailhead helps Salesforce clients take better advantage of Salesforce tools and services. The company recently started a partnership with more than 70 universities, community colleges, workforce development programs, and educational nonprofits to bring Trailhead into the classroom as an addition to the school's existing curriculum." (https://www.pcmag.com/article/358613/salesforce-trailhead-makes-the-paper-resume-obsolete)