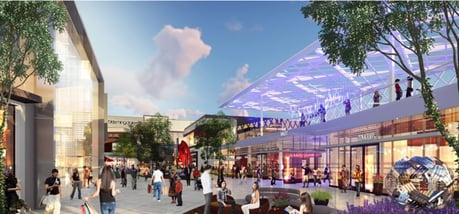 Silicon Valley Green Milestone
Silicon Valley Business Journal recently reported a green milestone in California's Santa Clara and San Mateo counties. It involves a rapid shift to community-owned energy companies, most of which specialize in alternative clean technologies like solar and wind generation.
"In the brief span of just three years, nearly nine of every 10 residential customers and almost 70 percent of non-residential customers in Silicon Valley have switched from electricity generated by Pacific Gas & Electric Co., the once-dominant investor-owned utility, for cleaner and cheaper power generated by
community-owned companies
.
This change has resulted in slashing greenhouse gas emissions to generate local electricity by 64 percent while PG&E's share of the bundled energy generation-transmission market plummeted from 91 percent to 5 percent, according to data developed by Joint Venture Silicon Valley's Institute for Regional Studies." (Silicon Valley Business Journal, 7/11/19)
Of course we expect big tech companies like Intel, Apple, Cisco and Google to continue their environmental commitment through green energy and green building. In fact we even expect green building from smaller tech start-ups as they're often fueled by green-savvy millenials. Yet in the past we didn't see too many large retail properties going green, though now that's also changing. One of the largest retail centers, Westfield Valley Fair Mall, just augmented plans to add to Silicon Valley's clean energy progress.
Westfield Valley Fair Ups Their Green Stride
The completely-renovated Valley Fair shopping center, expected to fully launch next year, will be much greener as well as significantly larger. The mall owners, Unibail-Rodamco-Westfield (URW), announced plans this week to increase the number of solar panels for the new Valley Fair center, located on the border of San Jose and Santa Clara. The upscale shopping center, one of URW's largest properties, is currently undergoing a $1.1 billion 650,000 square feet expansion. It's expected to grow from 200 storefronts originally to more than 360 by the time it opens next year.
"When complete, roughly 30 percent of the mall's energy will be powered by its solar arrays, which will primarily be placed on top of the shopping center's new parking garages, according to Leah Heil, vice president of shopping center management at URW. The effort, announced Tuesday, is part of the Paris, France-based retail real estate investor's global corporate social responsibility program, called "Better Places 2030." The promised panels are an early step in the retail giant's efforts to halve its carbon footprint globally by 2030.
The company plans to meet that goal by working with the retailers in its shopping centers to reduce carbon emissions by 80 percent. It also plans to reduce its own construction, transportation and operations-related emissions and is making "biodiversity action plans" for all of the company's 92 properties across 12 countries." (San Jose Spotlight, 7/10/19)
BarkerBlue's Partnership and Green Commitment
BarkerBlue is proud to partner with Westfield Valley Fair Mall on their new renovation, supporting the project from our environmentally-friendly San Mateo office which uses its own solar arrays and other green business practices. BarkerBlue provides Professional Construction Information Management (CIM) for this building project, managing the current building plans or sets using PlanGrid planning software.
The project's building plans are complicated by the fact that there are multiple ground-up components (mall & garage), plus a large interior renovation component that sits on two cities requiring management of 4 plan sets. Learn more about how BarkerBlue can help your construction project stay on track at www.barkerbluebuild.com.
See more on our green business practices here:
https://barkerblue.com/company/environmental-commitment/#live-solar-monitoring