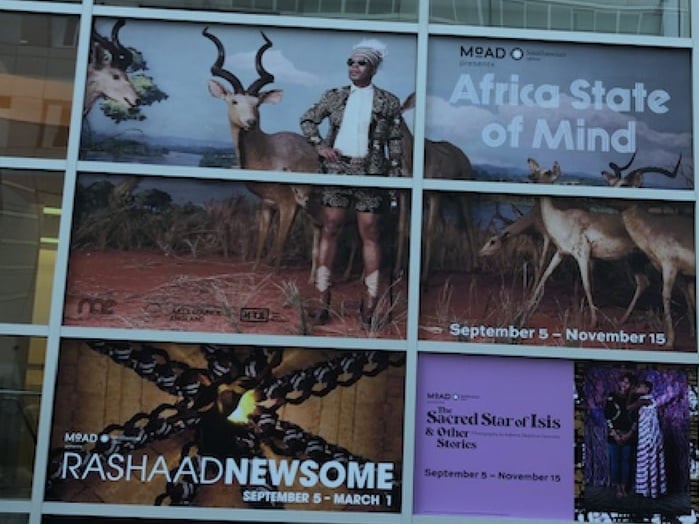 "Opened in 2005 in San Francisco's Yerba Buena arts district, MoAD, a contemporary art museum, celebrates Black cultures, ignites challenging conversations, and inspires learning through the global lens of the African Diaspora." ( https://www.moadsf.org/exhibition/africa-state-of-mind/)
The Museum of the African Diaspora (MoAD) recently launched their fall season of exhibitions dedicated to photography. The season focuses on some of the most significant photographers living and working in America today, plus the work of fifteen diverse African photographers. On display are multiple exhibitions that feature the diversity of photo representation across the African Diaspora. Included are these selections: the only U.S. showing of the traveling exhibition Africa State of Mind, Adama Delphine Fawundu's The Sacred Star of Isis and Other Stories, Laylah Amatullah Barrayn's Baye Fall: Roots In Spirituality, Fashion And Resistance, and Black is Beautiful: The Photography of Kwame Braithwaite.
"The Museum also presents a solo exhibition of the video work of Rashaad Newsome, whose work is deeply invested in how images used in media and popular culture communicate distorted notions of power. He draws attention to the contributions that marginalized communities, whose culture is often absorbed and co-opted by mainstream advertising platforms, have made to pop culture and society in general. The works on view focus on voguing, the highly stylized dance form that emerged in the 1980s from Harlem's queer ballroom culture." (https://www.moadsf.org/blog/a-season-of-exhibitions-dedicated-to-photography-in-the-african-diaspora-plus-a-solo-exhibition-of-the-video-work-of-rashaad-newsome/)
MoAD is also showing the work of DeShawn Dumas as part of its Emerging Artist Program (EAP). The Emerging Artists Program at MoAD nurtures emerging and mid-career artists to help expand their professional and artistic development opportunities.
Each year, EAP selects four final artists or art collectives to exhibit. They are selected from among dozens of submissions by a team of jurors that includes MoAD staff and arts professionals from around the Bay Area.
"Since the initiation of the program three years ago, MoAD is proud to have provided 10 California artists the opportunities, with institutional support, to generate and exhibit works reflecting the cultural and artistic richness of the African Diaspora." (https://www.moadsf.org/connect/emerging-artists-program/)
BarkerBlue recently created and installed new museum displays for MoAD to help promote and support their fall programs. This included exterior glass window graphics and rigid signs as well as an interior wall mural in the exhibit space. Learn more about BarkerBlue custom graphics at https://barkerbluecreate.com/.