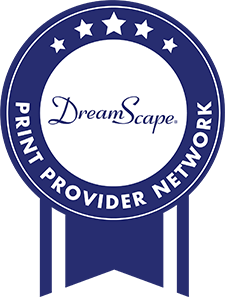 We are proud to be a trusted member of the DreamScape Print Provider Network (PPN), authorized to produce exceptional wallcoverings using their premium media. With our expertise in wallcovering printing and commitment to quality, we offer our clients the opportunity to transform their spaces with vibrant designs and stunning visuals on DreamScape's innovative materials.
Permanently Removable
DreamScape WallWraps are a permanently removable, self-adhesive wallcovering product, well-suited for retail environments and promotional applications. Its unique 3-ply technology hides wall imperfections. Learn more
DreamScape's Perfect in Education, Healthcare, and Hospitality Facilities
DreamScape's commercial wallcovering products are built for traffic. Scuff and tear-resistant, this wall media will hold up to the test in the busiest stairwells, corridors, and public settings, making this the ideal choice for schools, hotels, motels, spas, gyms, medical offices, and more.
Sustainable Options
DreamScape makes sustainability a priority. There are several product lines with a focus on the use of post-consumer related content and PVC-free, plasticizer-free and phthalate-free content. Check out their sustainable wall media.
See what is new!
DreamScape is always releasing new, outside-of-the-box wallcovering materials. Their lines includes 13 unique textured vinyl surfaces with an optimized white point for superior inkjet imaging. These represent the core of the DreamScape line and are suitable for all wall projects. Check out the classics such as Suede, Matte, Mystical and Canvas. In addition, their 'Special Effects' category includes metalized 'Flash' items as well as new Holographic series. See more.