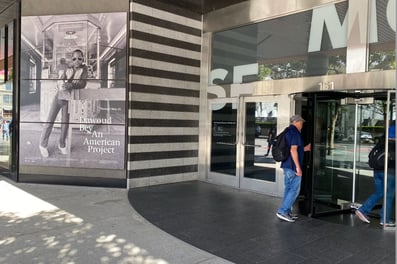 This month marked the opening of Dawoud Bey: An American Project, a photography display on exhibit from February 15 – May 25th at the San Francisco Museum of Modern Art (SFMOMA).
"Since the beginning of his career, Dawoud Bey (American, born 1953) has used his camera to depict communities and histories that have largely remained underrepresented or even unseen. This full-scale retrospective highlights the artist's commitment over the course of his four-decade career to portraying the black subject and African-American history in a manner that is at once direct and poetic, and immediate and symbolic. The exhibition includes his tender and perceptive early portraits of Harlem residents, large-scale color Polaroids, and a series of collaborative word and image portraits of high school students, among others." (https://www.sfmoma.org/exhibition/dawoud-bey-an-american-project/)
Bey's photos focus on illustrating black history through compelling portraits in works like The Birmingham Project (2012) commemorating the 1963 bombing of the 16th Street Baptist Church in Birmingham, Alabama. His recent work also includes landscapes like Night Coming Tenderly, Black (2018) which portrays the imagined experience of a fugitive slave moving along the Underground Railroad.
"Dawoud Bey began his career with the series Harlem, U.S.A., exhibited at his first solo show in 1979 at the Studio Museum in Harlem. His work has been featured in numerous exhibitions worldwide and he has created many participatory projects focused on making institutional museum spaces more accessible to their communities ― especially to young people. Bey is a recipient of the MacArthur Foundation Fellowship, also known as the Genius Grant, among other awards and honors. He holds a master of fine arts degree from Yale, and is currently a professor of art and a former Distinguished College Artist at Columbia College Chicago, where he has taught since 1998." (https://www.sfmoma.org/event/dawoud-bey-in-conversation-with-leigh-raiford/)
BarkerBlue teamed with SFMOMA to create and install the street-facing large display graphics that promote Dawoud Bey's exhibition. We're proud to participate in the launch of this outstanding artwork documenting black history in the U.S. and encouraging reflection on and discussion of racial issues.
Learn more about BarkerBlue's museum graphics and other display graphics solutions at https://barkerblue.com.