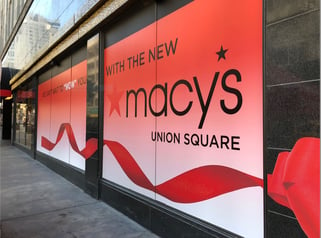 Just in time for the holidays Macy's Union Square relaunched its newly renovated store early this month. BarkerBlue helped by wrapping the Stockton-O'Farrell Street windows with creative retail graphics of a giant lifelike bow swirling with teaser messaging across the building. We think a trip to Macy's Union Square is sure to get you in the holiday spirit, starting with a view of the festive windows. If that's not enough, check out these other great options Macy's now offers.
Same Day Delivery for Select Online Orders
Macy's Inc. is testing free same-day delivery on orders of $75 or more for online shoppers in 30 major markets nationwide, including the San Francisco Macy's Union Square.
"The new same-day delivery program will include "hundreds of thousands of products," Macy's says. A previous same-day delivery program was more limited. Macy's (No. 5 in the Internet Retailer 2019 Top 500) says it will run the pilot program for a limited time starting Oct. 1 … Macy's says the same-day delivery program makes it the first department store chain to provide the service without requiring consumers to pay a membership fee."(https://www.digitalcommerce360.com/2019/09/20/macys-launches-free-same-day-delivery-pilot-in-30-u-s-markets/)
See full details on same day delivery here: https://www.macys.com/ce/splash/same-day-delivery/
Free Pickup In Store for Online Orders
Macy's Union Square also offers in-store pick up for online orders. This is a nice option if you can wait a week or so and are concerned about doorstep theft.
https://www.macys.com/ce/free-pickup-in-store/index
Fun Events for Upcoming Holidays:
To celebrate recent updates and new offerings at Macy's Union Square, the store just hosted a "grand reopening" tour in early November, but there are still several special events planned to gear up for the holidays, including these listed below:
November 22, 2019:
Macy's and San Francisco SPCA Holiday Window Unveiling
Join Macy's and special guests as they unveil the Holiday Windows starring adoptable animals from the San Francisco SPCA and San Francisco Animal Care & Control. With host, Kristen Flowers of 96.5 KOIT.
Also November 22, 2019:
Hello Kitty Holiday Meet & Greet
Come say hello to Hello Kitty at Macy's Union Square. Take a photo with Hello Kitty at our selfie station, create your own crafts, enjoy sweet treats and much more! Plus with any Hello Kitty purchase* of $50 or more, receive a special gift!
November 28, 2019:
Enter for a chance to win Macy's Gift Card or Jingle Ball tickets!
Join Macy's and WiLD 94.9's Gabby Diaz to kick off the holiday season! They'll be spinning music and hosting prize giveaways every 15 minutes. Join for a chance to win* a $100 Macy's gift card or a pair of tickets to WiLD 94.9's Jingle Ball.
If you need window graphics or event graphics to dress up your business for the holidays consider BarkerBlue Create. We provide quality custom display graphics of all kinds. BarkerBlue wishes you a safe and fun holiday shopping experience and a very Happy Thanksgiving!