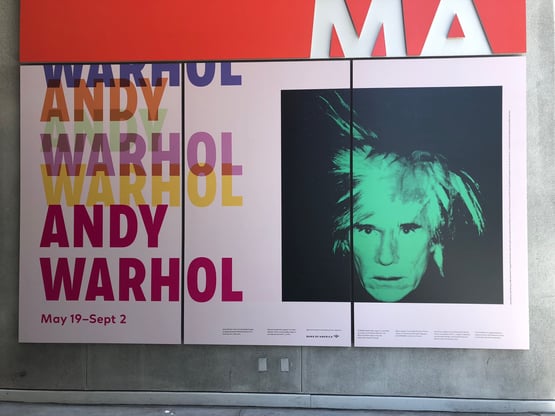 Some might say Andy Warhol planted the earliest seed for social media, all be it without the convenience of the internet. "Warhol's understanding of the growing power of images in contemporary life anticipated our social media-focused world and helped to expand the artist's role in society. " (https://www.sftravel.com/article/must-see-andy-warhol-exhibit-lands-sfmoma-2019)
The artist's focus on elevating everyday consumer objects (think Campbell's soup can), combined with some of his work's fixation on popular societal influencers, helped open doors to today's social media content. Ironically in 1968, Andy Warhol stated, "In the future, everyone will be world-famous for 15 minutes." "By 1979, Warhol acknowledged his prediction from the '60s that everyone will be famous for 15 minutes had already come true," says Michael Dayton Hermann, director of licensing at the Andy Warhol Foundation for the Visual Arts." (SFChronicle.com)
This is just one reason to see the current Andy Warhol exhibit "From A to B and Back Again" on display at SFMOMA until September 2nd. The exhibition covers the whole gamut of Warhol's 40-year career, and is a collection that was first presented at the Whitney Museum of American Art in New York. It includes paintings, drawings, graphics, photographs, films, and television shows, as well as some of Warhol's personal memorabilia.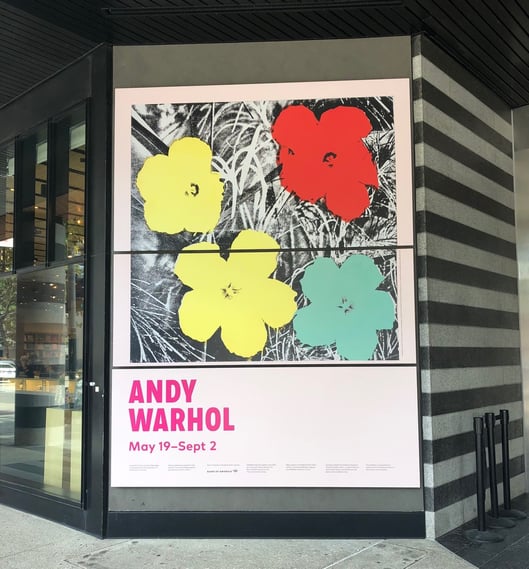 Of course Warhol's post-Pop art of the 1960s and 1980s is also featured, highlighting his exploration of gender and identity and his impact on young artists of New York's East Village in the 1980s. Along with the artist's well-known self-portraits, the collection also showcases some of Warhol's most iconic work, including images of famous, sometimes controversial personalities. "National Velvet" (1963), "Liz #6 (Early Colored Liz)" (1963), "Triple Elvis (Ferus Type)", (1963), "Silver Marlon" (1963), and "Robert Mapplethorpe" (1983), are just some examples.
"Andy Warhol — From A to B and Back Again" (the title is from his 1975 memoir) actually has enough packed into the galleries to prove any theory of Warhol's talent and influence…with enough variety to match any museum visitor's impression of him. (San Jose Mercury News, 5/23/19)
Warhol's artwork still remains surprisingly connected to today's multi-media world, making him not just one of the most renowned artists of the 20th century, but cementing his importance as a bridge to the 21st century as well. BarkerBlue is proud to have partnered with SFMOMA to create and install the large museum displays promoting this comprehensive exhibit. See examples of our work pictured here, and more on all our environmental graphics at https:/barkerbluecreate.com.