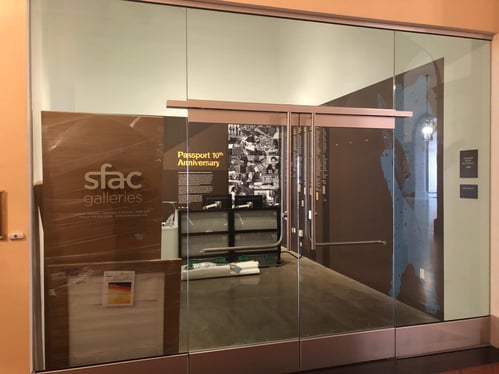 Here's the big reveal for BarkerBlue's Mystery Graphic from 11-8-18. Above is the full view of the wall graphics we featured last week of the blue bear holding the quill pen. Below are the mystery answers from last Thursday's blog (see underlined bold blue text).
"This whimsical but towering creature appears as part of this organization's promotion of the arts: San Francisco Arts Commission (SFAC), and appears in San Francisco." BarkerBlue created this wall graphic for SFAC to help promote their Passport 2018 program and their signature event that took place last month.
See our next Thursday's Blog for more Display Graphics mysteries and stories.
Read more about Wall Graphics and see our BarkerBlue portfolio of display graphics solutions here: https://barkerbluecreate.com/our-work/portfolio/