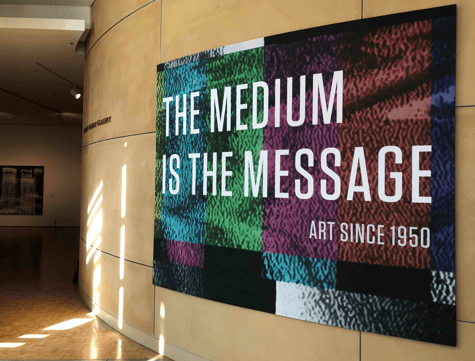 The Medium Is the Message is an installation comprised of works created since 1950 that examines the relationship between subject, content, and the materials that contribute to each object. "The exhibition is divided into three broad categories that explore the notion of "medium" in its various contexts: a means of communication, the materials from which an art object is created, and a mediating apparatus between objects and subjects." (https://museum.stanford.edu/exhibitions)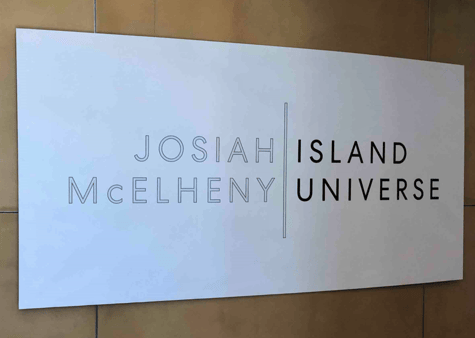 The second exhibition, Josiah McElheny's Island Universe, is an installation that visualizes the momentous big-bang scientific event using polished chrome, handblown glass, and radiating lights.
"Working at the unexpected intersection of physics, the history of Modernism, and art, McElheny imagines a multiverse scenario, where five separate universes occupy the same space, frozen in their individual moments of expansion. A marriage of scientific research and aesthetic modeling, McElheny collaborated closely with David Weinberg, distinguished university professor, and chair of the Department of Astronomy at Ohio State University, to make the necessary calculations and conceptualize the installation's forms." (Cantor Arts Center) The art project was also inspired by the work of Andrei Linde, a well-known professor in the Physics Department at Stanford University.
Notes Susan Dackerman, John and Jill Freidenrich Director at the Cantor, "My hope is that this exhibition encourages conversations among faculty, students, and the wider community about how art and science can be linked in visually stimulating and surprising ways, and how these two disciplines can inform each other. " The installation at the Cantor will be the first time Island Universe is exhibited on the West Coast. " (https://museum.stanford.edu/exhibitions)
BarkerBlue Create is proud to partner with Stanford on these two new exhibits. Learn more about our Museum Displays here: https://barkerbluecreate.com/what-we-do/solutions/museum-displays/