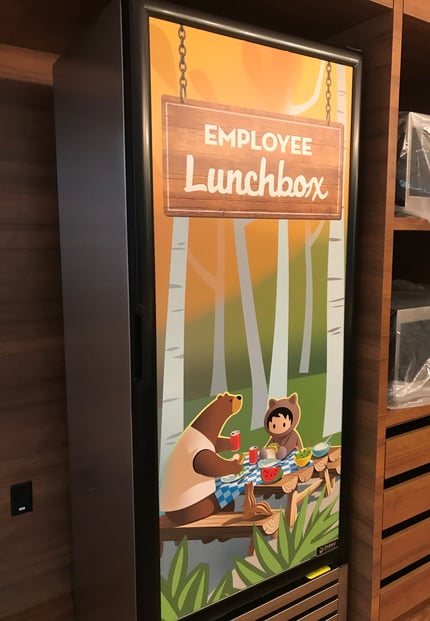 Ever notice epic companies take advantage of every impactful space to brand?
Innovative marketers know it helps to use both traditional and unique spaces to continuously remind everyone of their company brand. And why not combine that with a functional message to help employees find what they need? That's exactly what Salesforce did in their San Francisco office when they added the Salesforce Trailblazer graphic to their lunchroom fridge.
If enough people can see it, the space is worth investigating for branding, and can help build stronger cumulative visibility. Here are some other unique spots to consider: stairs, floors, escalators, elevators and even parking garage walls or spaces.
If you have visible space, it may be worth using for your own branding. Leveraging multiple locations on the interior or exterior of your office is a great way to expand brand awareness. BarkerBlue created and installed this Trailblazer graphic for Salesforce. See more of our work here: https://barkerbluecreate.com/our-work/portfolio/ or contact us to learn more.