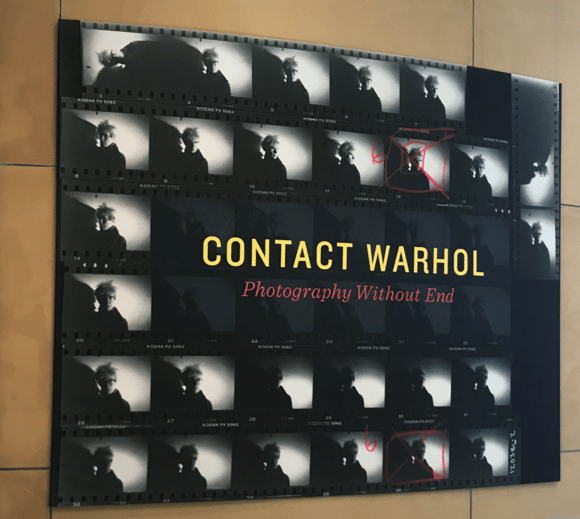 A new Andy Warhol exhibition, Contact Warhol: Photography Without End, opened in late September and is showing through January 6, 2019 at the Cantor Arts Center at Stanford University. The exhibit, on display in the Pigott Family Gallery, is drawn from an intriguing collection of 3,600 contact sheets and photo negatives that encompass the full range of Warhol's black-and-white work from 1976 until his death in 1987.
As per the Wall Street Journal, "Warhol himself said the contact sheets were a visual diary so he would know where he had been at every moment," says Peggy Phelan, the Denning Family Chair and director of the Stanford Arts Institute and one of the show's curators, along with Richard Meyer, the Robert and Ruth Halperin Professor in Art History at Stanford University. Though the contact sheets date from 1976 to 1987, they're striking for how much they resemble iPhone libraries of today, featuring rows of nearly identical shots of a platter of apples, a car parked on the street or an after-dinner table topped with empty glasses and coffee cups." (WSJ Magazine, Sept. 27, 2018)
The exhibition also captures Warhol's interactions with the social and celebrity elite of his time with portraits of stars including Michael Jackson, Liza Minnelli, Dolly Parton, and political stars, such as Nancy Reagan, Maria Shriver, and Arnold Schwarzenegger. Contact Warhol, tracks the artist's photos from their start on a contact sheet into his more developed silkscreen paintings.
BarkerBlue Create produced and installed the main entry wall graphics for the Contact Warhol exhibition. In addition to the supersized wall graphics, we fabricated a customized aluminum floating frame that bends to the curve of the entry wall, avoiding the need to attach to or damage the stucco wall. Learn more about BarkerBlue's creative solutions for museum displays and view our full portfolio of customized display graphics at https://barkerbluecreate.com
Note from Cantor Arts Center: Please be advised that the Contact Warhol exhibition includes some images that may not be appropriate for young viewers.