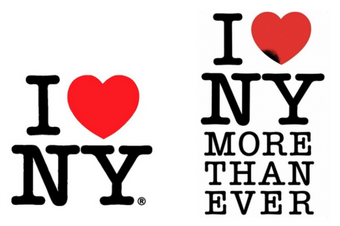 "There are three responses to a piece of design – Yes, no, and WOW! Wow is the one to aim for."
--- Milton Glaser, Graphic Designer, creator of I Love NY, and I Love NY More Than Ever graphics. (99designs)
Even if you don't remember the iconic first graphic above, you'll surely relate to the second one, born out of 911 and its impact on New York and the whole country. This is a perfect example of how powerful graphics can be. Plus it illustrates how well they can capture and convey the identity and spirit of a place or brand, and the emotion associated with it.
As Milton Glaser put it, "Wow!" is what we're all after from a graphic. But for most of us we first need the "Yes" on the investment for graphics before we can work towards the "Wow." Even if you understand the value of displaying graphics, it can still be hard to articulate this to workplace decision makers.
To help, take a look at "5 Ways Display Graphics Improve Your Business". This FREE eGUIDE outlines the business value for display graphics in 5 points, with several photo examples from successful businesses. Click on either blue link for your Free Graphics E-Guide, or click the cover image link below. Use the "5 Ways..." to get the green light on funding, so you can start building "Wow" graphics to attract more business.