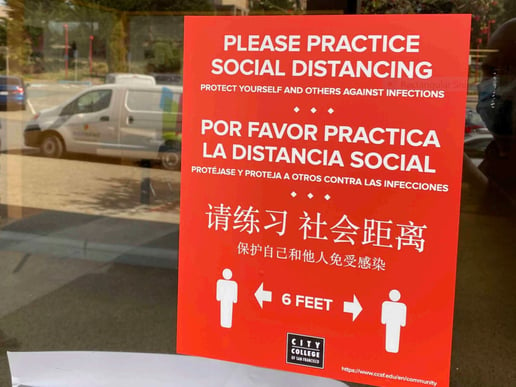 "Community colleges have a footprint in every state, Washington DC, and most territories, providing access to higher education for individuals who never considered college an option or lack the financial resources to attend. They have a longer history than many people realize.
Junior colleges took root in the early 20th century; played an important role in World War II, which prompted the Truman Commission to dub them "community" colleges; and grew into a national movement following the War on Poverty. Since then, they have played an increasingly important role in the educational infrastructure of the U.S., exemplified by their contribution to America's recovery from the Great Recession." https://www.newamerica.org/education-policy/edcentral/how-community-colleges-can-help-america-recover-covid-19/
Community College of San Francisco is an integral part of that rich history, with the same potential to drive a big difference in CoVid economic recovery. Through CCSF's Free City program low-income or unemployed people can use education and retraining to help rebound by earning a two-year associate degree tuition-free, as long as they're established residents living in San Francisco.
Recently One Workplace and BarkerBlue were asked to help CCSF with their Phase I reopening for gradual return of college employees. Each company quickly jumped in and teamed together to help.
One Workplace, specializing in workplace design, furniture, AV technology and more, helped rearrange the office floor plan at CCSF for the new foot-traffic control needed. BarkerBlue then created and installed reopening safety signage to help CCSF comply with CoVid reopening standards designed to protect staff and students.
BarkerBlue produced and installed all the safety signs for CCSF pictured here including:
Exterior entry signs
Floor graphics for wayfinding and 6 Ft. social distancing
Wall graphics for general notice and at sanitation stations
Retractable banner stands placed at multiple entry points
For complete signage for your reopening, click the button below, or contact us for any custom-designed needs.
BarkerBlue is proud to team with One Workplace to support CCSF's Phased reopening.
Note: For more information on CCSF's plans for reopening and classes click this link:
https://www.ccsf.edu/en/community.html