Earlier this year we shared a blog post with a couple of pictures from our first round of work with Booking.com for their San Francisco headquarters. We got a lot of good feedback on that post and now we want to share a couple more photos from the same project.
Booking.com has 20 offices in the US and over a hundred offices worldwide. What we think is really cool about these offices is that they are all themed after the city they are in. Their San Francisco office space was (naturally) themed after the City, as you can see in the last Booking.com blog post.
We already shared two of the San Francisco-inspired design elements from their office space; the acrylic dimensional cable car and the Golden Gate Bridge railing in the hallway. Let's take a look at some of the other design elements we took use of to give the office a San Francisco feel and look.
Glass Frostings – Karl the Fog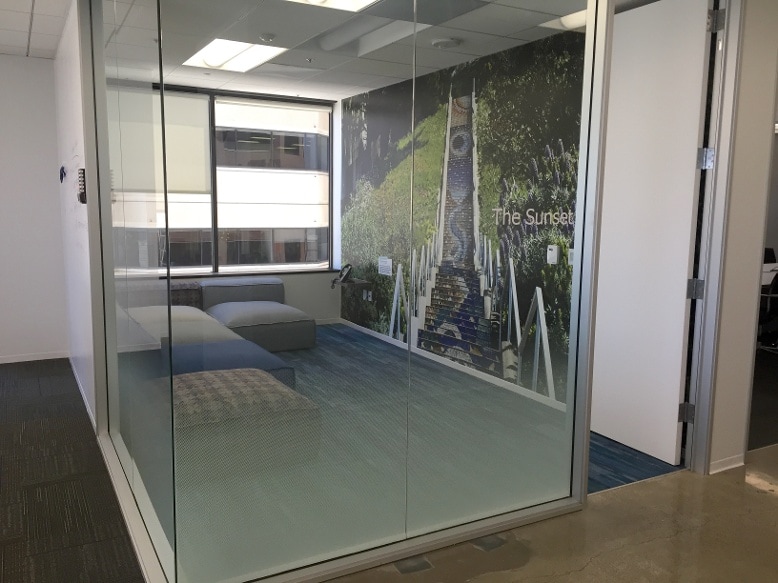 If you live in San Francisco or have spent time in the City, we're sure that you have come accross the San Francisco fog at some point. It is definitely one of San Francisco's most known characteristics. The fog has even been given the name Karl the Fog by the residents. We visualized the fog on the break room glass by taking use of frosted film (shown in the picture above). The interior wall of this room has been branded with a photorealistic wall graphic of the 16th Avenue Tiled Steps, located in the Sunset
District, a graphic that goes hand in hand with the room's name.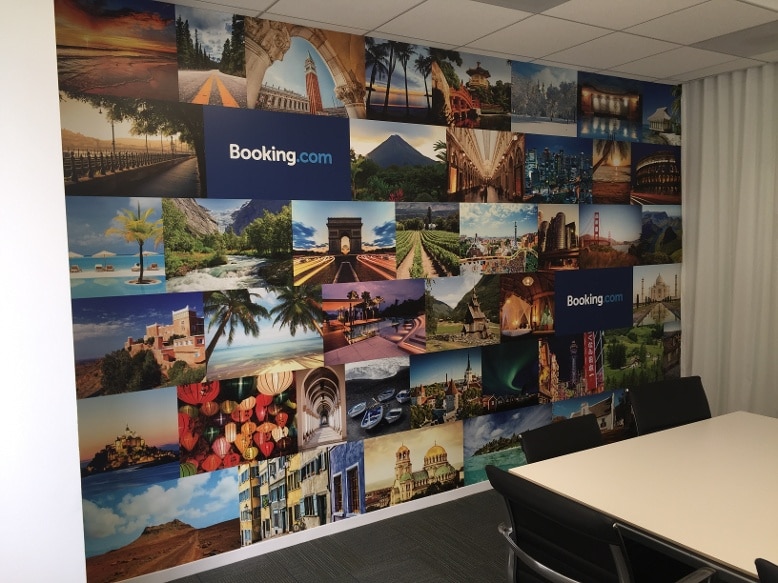 For one of their main conference rooms the facilities department at Booking.com wanted to use wall graphics to bring their brand to life. As you can see in the photo above, the graphic is put together with stunning pictures from all over the world as well as the Booking.com logo and brand colors.
What do you think of this San Francisco-branded office space? We definitely enjoyed working on this project and are looking forward to our next project with Booking.com
How will you bring your office space to life? Call us today for a free consultation!
By the way, be sure to check out Karl the Fog on Facebook, Twitter and Instagram.