We're sure that you've already heard about San Francisco Museum of Modern Art's most recent expansion. It was designed by SFMOMA in partnership with the Norwegian architecture firm Snøhetta. The expansion doubled the museums previous exhibition space, adding another 235,000 square feet to the museum.
The 14th of May, the museum was reopened after being closed for almost two (!) years. Over 5000 tickets for the opening day was given away by the MOMA and the rest of the day quickly sold out. The ceremony included a formal ribbon cutting, neighborhood museums opening to the public for free and a guest list consisting of a wide range of public figures. San Francisco mayor Ed Lee and congresswoman Nancy Pelosi were among the attendees.
Last week we wrote a blog post showing you the graphic work we did for SF MOMA leading up to the opening. Now we would like to show you some of the graphics we helped produce for the museum's opening. Supersized tension fabric displays, window posters and an exterior monument were all among the graphics solutions we produced for the grand opening of the museum.
Take a look at the pictures and let us know what you think! Here at BarkerBlue, we have years of experience providing museums with graphics, both interior and exterior. Besides the SF MOMA, some our biggest museum clients include the Asian Arts Museum of San Francisco and the Stanford Cantor Center for Visual Arts.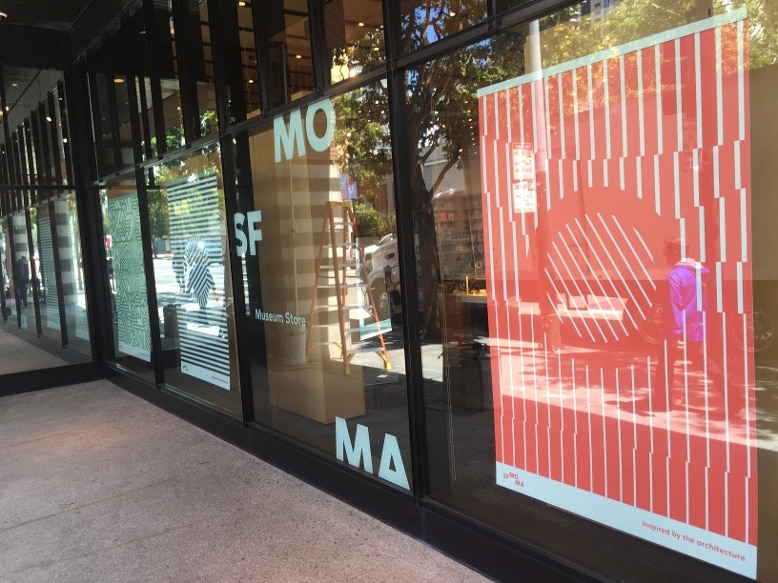 Are you looking for any type of display graphics? Contact us today for a complimentary consultation on how we can help optimize your project.