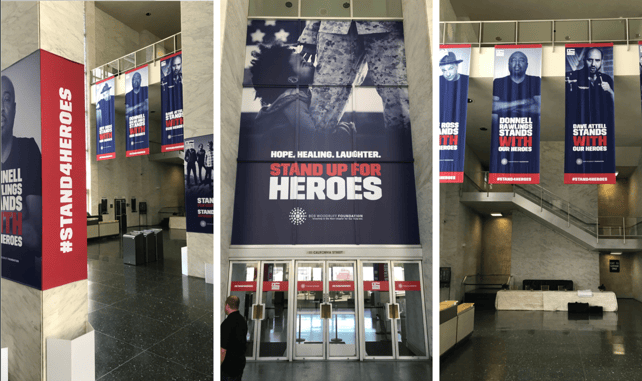 We all know holidays are special days to recognize and commemorate important events and people. While those special days matter for sure, let's not forget that any day is a good day to remember and thank the heroes in our lives, particularly our veterans.
With that in mind, and on the heels of July 4th, BarkerBlue wants to thank the Bob Woodruff Foundation for bringing Stand Up For Heroes to the SF-Bay Area this year.
"Stand Up For Heroes was created 11 years ago by Woodruff, his wife Lee, and New York Comedy Festival founders Caroline Hirsch and Andrew Fox as a tribute to the nation's service members. Since its inception, the event has raised more than $45 million to find, fund and shape the most innovative programs serving post-9/11 impacted veterans, service members and their families...
Stand Up For Heroes made its West Coast debut in San Francisco on Thursday, May 17 at The Masonic, featuring extraordinary live performances by musical guest Collective Soul and comedians Dave Attell, Donnell Rawlings, Jeff Ross and special guests. (bobwoodrufffoundation.org)"
Though the event took place in Spring, the contribution it makes to the veteran community is exceptionally noteworthy and long-lasting.
"We created Stand Up For Heroes to celebrate and support wounded veterans that have bravely served our country," said Bob Woodruff, ABC News correspondent and co-founder of the Bob Woodruff Foundation. "It's a night for everyone to come together and show how much we appreciate the incredible sacrifices these individuals, and their families, have made." (bobwoodrufffoundation.org)
BarkerBlue created, produced and installed the display graphics for the Stand Up For Heroes event in San Francisco. This included entrance displays, column wraps, hanging banners and more. We are proud to participate and contribute to such a great-cause event. Learn more about how to brand events with BarkerBlue.