"The Bay Area is the most expensive place in the world to build an apartment building, office tower, hospital, warehouse or school. And it's not even close — the region is 13 percent more costly to develop than second-place New York, according to a new report by U.K.-based consultant Turner & Townsend. The report blamed high costs on a combustible mixture of high demand, labor shortages, steel tariffs and rapid economic growth. The average construction cost per square foot in the Bay Area is now $417, besting New York's average of $368 per square foot." (San Jose Mercury News)
If current building costs aren't impactful enough, there's also evidence that cost increases are not slowing. Another study published by consulting firm Rider, Levett, Bucknall shows San Francisco ranks in the top U.S. cities for the highest increase in construction costs since last year. Chicago leads as number one, Portland second, San Francisco is 3rd highest, then Phoenix, D. C. and Seattle. All these cities show cost increases of over 6% in just one year (as noted on the RLB map below).
% Change Construction Costs (Jan. '18 - Jan. '19)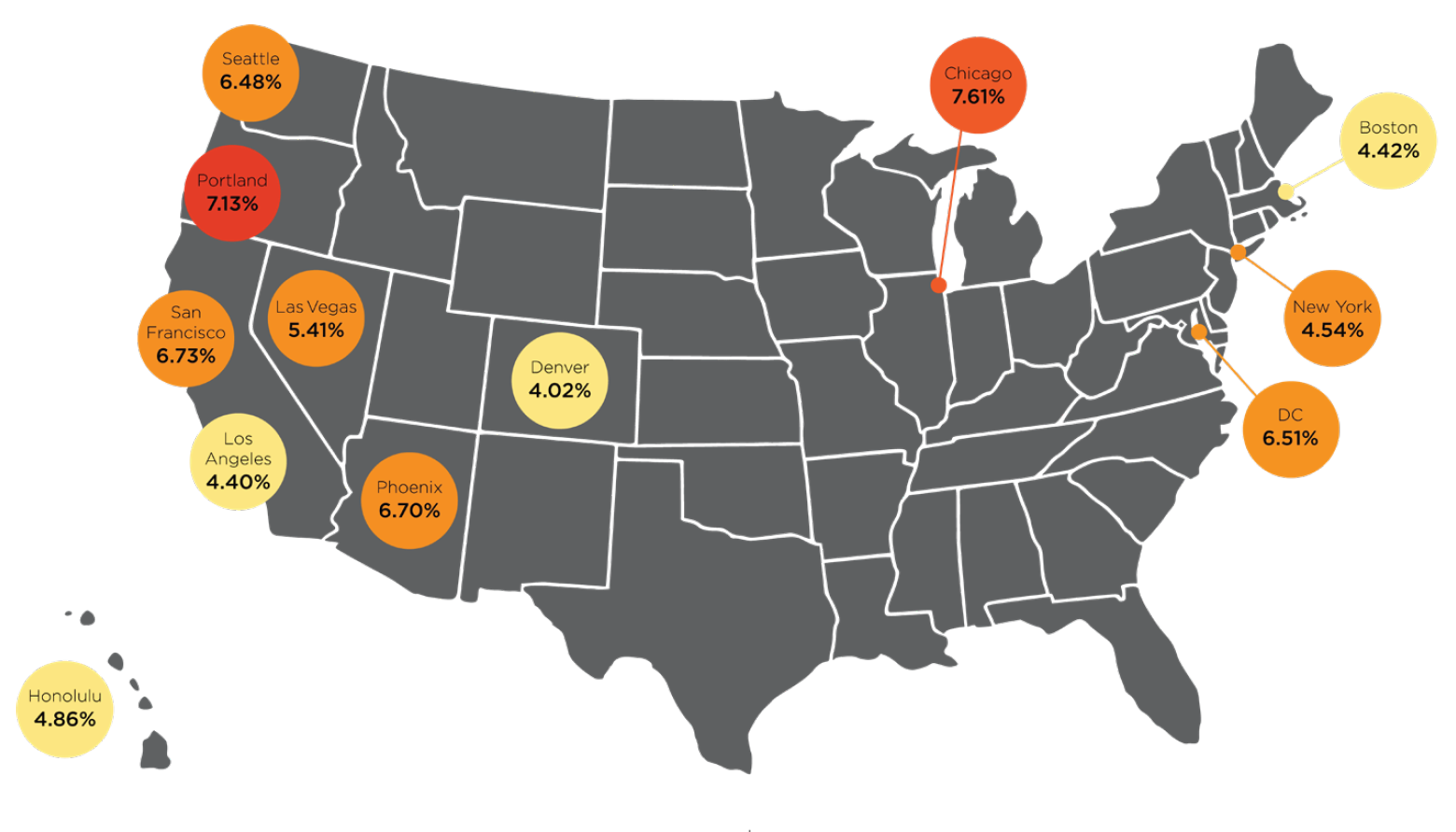 Though the congested Bay Area still needs development for more homes, offices, roads and transit, there's concern that the rising costs may drive project delays and alter size and scope of construction projects.
Construction Companies and Building Developers: How is the rising cost of construction in the Bay Area affecting your business and how will you address it? Which of the below alternatives are you considering to address costs?
1) We're focusing on finding projects in other cities outside of the Bay Area, but still in the West.
2) We'll add more new projects in farther outerlying suburban areas, in addition to more Bay Area cities.
3) We'll target new business out of state across the country, but still remain in the Bay Area.
4) We'll offset the cost of building by streamlining our processes to reduce unnecessary rework and error rate.
5) We'll move our whole operation to another city where the cost of doing business is less.
We'd love to hear from you! Please pick one or more of the multiple choices above and send us your number answer(s) in the "SUBMIT COMMENT" section at the bottom of this blog on our website.
To learn more on how Construction Information Management can improve your productivity contact us at: https://barkerbluebuild.com/contact/