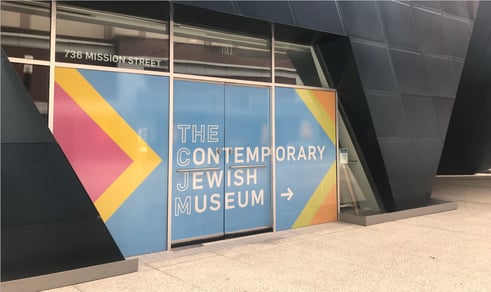 New Museum Graphics
The Contemporary Jewish Museum (CJM) in San Francisco recently got redecorated with new museum display graphics. The CJM teamed with BarkerBlue to create and install colorful environmental graphics across both the outside and inside of the museum.
Fresh window signs now ensure CJM's vibrant brand stands out from the entrance and the street. BarkerBlue also created and installed perforated window films and custom designed printed transparencies, applied to both interior and exterior surfaces for maximum impact.
The Museum Attractions
The Contemporary Jewish Museum offers a rich variety of family-friendly programs that keep each visit engaging and memorable. "The CJM makes the diversity of the Jewish experience relevant for a twenty-first century audience through innovative exhibitions and programs that educate, challenge, and inspire…The museum curates and hosts a broad array of exhibitions each year in collaboration with other institutions, but does not display their own permanent collections. (https://www.thecjm.org/about#what-we-do)" In fact the CJM's collaborative programs offer the advantage of a diverse wealth of choices for all ages, plus special events customized for members and visitors needing wheel-chair access.
Rich Architectural History & New Construction
The older main structure of the museum is housed in the former Pacific Gas & Electric Jessie Street Substation. The building, listed on the National Register of Historic Places, was originally constructed in 1881 but was rebuilt by Willis Polk after the 1906 San Francisco earthquake.
A new museum renovation was completed in 2008 by Daniel Libeskind employing a deconstructivist cubical design that added a 63,000 square foot interior to the substation to extend the space. Libeskind's design of the CJM building focuses on the intersection of tradition and innovation, or the merging of old and new.
"Inspired by the phrase "L'chaim", meaning "To Life", Libeskind let the Hebrew letters that spell "chai" —"chet" and "yud", inspire the form of the building. Libeskind himself explains how he used the letters: "The chet provides an overall continuity for the exhibition and educational spaces, and the yud with its 36 windows, serves as special exhibition, performance and event space. "To Life", also a traditional Jewish drinking toast, refers both "to the role the substation played in restoring energy to the city after the 1906 earthquake and the Museum's mission to be a lively center for engaging audiences with Jewish culture." (https://en.wikipedia.org/wiki/Contemporary_Jewish_Museum#cite_note-hamlin-3)
Learn more about the CJM current exhibitions here: https://www.thecjm.org/current_exhibitions
For more information on BarkerBlue's Environmental Graphics click this link: https://barkerbluecreate.com/what-we-do/solutions/environmental-graphics/