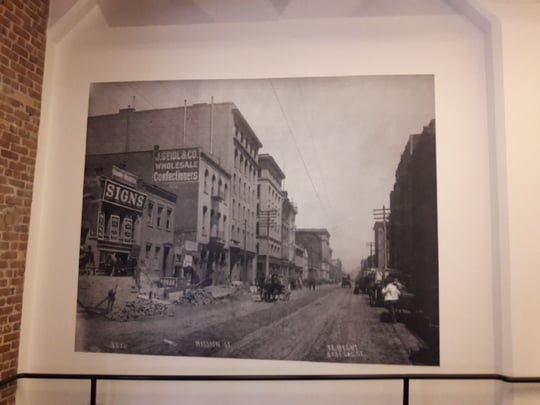 Ever wish you could freeze time to remember special or important moments? That's where photo and art displays help to capture and document our significant history so it isn't forgotten. Thankfully we live in an era where photos are easily accessible and can be quickly converted into quality displays. In fact, large-format digital imaging now easily allows for high-quality reproduction of old photos from years past.
A perfect example is the recent installation of a wall graphic of a 1901 vintage Market Street, on display at the Salt House Tavern on Mission St., San Francisco. The contemporary Salt House Tavern is housed in an old-printing press warehouse built in the 1930's, making this environmental graphic a great way to blend old and new heritage. Pre-1906 SF earthquake photos continue to be a big draw across the Bay Area. BarkerBlue designed and installed the vintage photo display, drawing from their own 60-year history of providing quality custom display graphics of all kinds.

Peering into this vintage image begs the question: What was it like on Market Street in the early 1900's? For a fun stroll through the sights and sounds of the day, click on this short video of 1906 Market Street just days before the famous earthquake: https://www.youtube.com/watch?v=8Q5Nur642BU (Mike Upchurch, YouTube, 1/6/14).

Want to bring your own business history to life? BarkerBlue can design creative graphic solutions to engage your customers and tell your business story. We can also create custom timeline displays to portray and celebrate your business's own unique heritage and memorable moments. Learn more at https://barkerbluecreate.com/ or contact us at info@barkerblue.com.