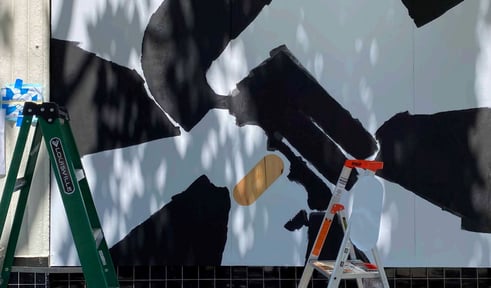 As with many locations, SF Bay Area downtowns got hit hard with vandalism during the recent Black Lives Matter protests. The response from many peaceful protesters, eager to distinguish their message and actions from looters, is incredibly inspiring. In several cities protestors and others pitched in immediately with small business and city cleanup.
"In San Jose, Calif., on Monday, Mayor Sam Liccardo was handing out cleaning kits — a bucket, a scraper, some rags and Goo Gone, a chemical solvent — and offering a short course in graffiti removal...Several dozen small businesses in San Jose had their windows smashed in protests over the weekend. "It tears your heart out," he said, "because they are struggling so much already." (https://www.nytimes.com/2020/06/01/us/george-floyd-protests-cleanup.html)
Despite welcomed help, across the Bay Area and the nation many small businesses are struggling now more than ever with how to get their business visible and reopened.
Kantine cafe
on SF's Market Street is no exception. After basic clean-up they needed to get signage back in place to show they were open for business with take-out services, while also wanting to display solidarity with
#blacklivesmatter
.
BarkerBlue helped reimage the Kantine cafe storefront with customized
display graphics
to accomplish their reopening goals. We collaborated to produce and install
vinyl stencils
which were then painted with the bold visual message on Kantine's new storefront display. We also added an anti-graffiti overlaminate to protect the graphics.
Whether you need an inspirational message, basic messaging and branding, or safety signage to reopen your business, BarkerBlue is here to support you. BarkerBlue specializes in a variety of display graphics solutions. This includes
Environmental Graphics
which offer unique opportunities to motivate customers, employees, or communities with compelling messages. Plus we provide
Essential Reopening Safety Signage
, Retail Graphics and more. Our team offers years of expertise and innovative solutions that can be customized to your location and needs.
Learn more at
https://barkerbluecreate.com/
or click one of the buttons above or below that best fits your project needs.