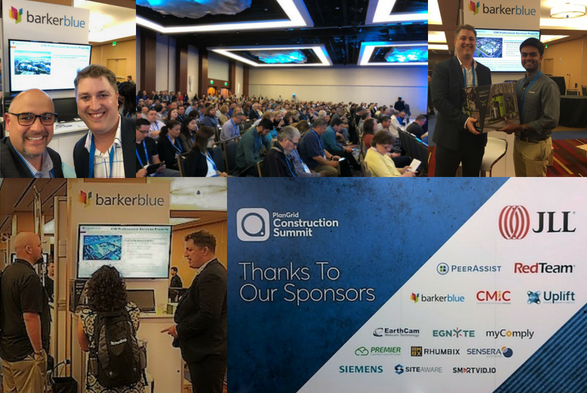 PlanGrid launched its first Construction Summit last week to a packed house in San Francisco.
Over 750 people gathered to learn more from fellow industry professionals, and to hear about new version updates on PlanGrid's construction planning application.
Highlights of the 2-day summit include:
Milestones: 350 PlanGrid Team-Members, 84 countries, 10,000+ customers, 1M+ projects.
Three pillar topics throughout: ACCESS, COLLABORATION and INSIGHTS.
Break-out sessions focused on education, tips, and what's coming in the future.
"Almost all breakout sessions were crowded," said Lee Hopkinson, Sales Director at BarkerBlue. "The most outstanding was the keynote motivational speech delivered by 3x Super Bowl Champion Steve Young. Turns out he is also an incredible speaker!"
BarkerBlue is proud to partner with PlanGrid, and was a Silver Sponsor and exhibitor at the PlanGrid Construction Summit. Construction Information Management experts from BarkerBlue were on hand to share, and to learn tips for continued success with PlanGrid. Attendees stopped by the BarkerBlue kiosk to view our video presentations on CIM, and to enter to win our drawing for a durable construction-grade Ox Coffeemaker.
And our winner is...Sidd Bartakke, Senior Project Engineer with Moss Construction, from Florida. Congratulations Sidd!
Thanks to all event visitors who stopped by our booth to learn how BarkerBlue helps control cost, time, and risk over the entire lifecycle of a building. Learn more about our professional Construction Information Management Service here: https://barkerbluebuild.com/professional-cim/