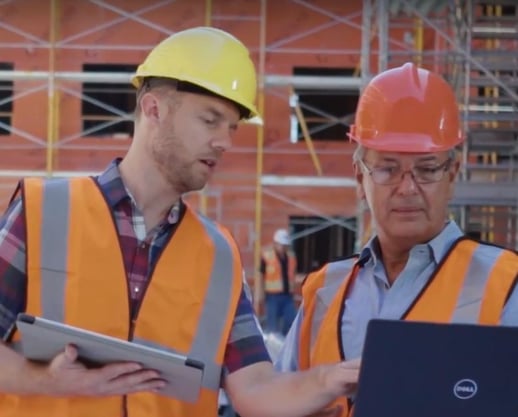 "The Economist recently named data one of the most valuable resources of our time. It's no secret that data already plays an integral role in every aspect of our lives both on a personal and professional level. And the construction industry is no exception. (T-Sheets, The Time Tracking Blog)"
Benefits of Better Construction Data
In fact, Dodge Data & Analytics just released survey results showing General Contractors rank the following as the top four benefits of improved construction data:
Better Budget Compliance
Greater Productivity
Greater Profitability
Better Project Completion on Schedule
As seen in the survey results below, there are also other benefits like safety and new business.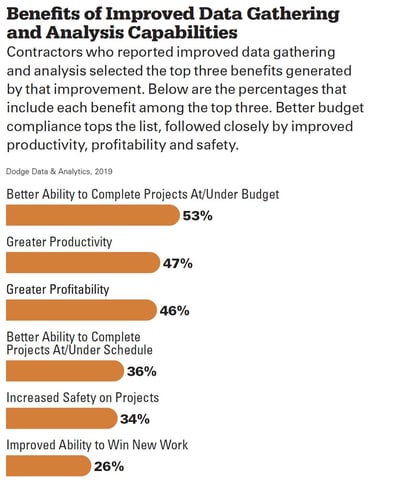 Clearly construction data matter and are driving results for many construction companies. But what are the requirements for "better data"?
4 Essentials of Better Construction Data
Here are four priority essentials for better construction data.
1) Data Quality -- Of course it seems obvious that accuracy is critical, but so is completeness. Not only do you want to be sure your data source is reliable, but you need to set standards for quality control to keep an eye on accuracy and ensure all the necessary data is provided so you don't get a skewed picture.
2) Multiple Data Sources -- To build a more complete plan and reduce chance of error you're better off using multiple data sources for various aspects of your planning. This adds the challenge of ensuring that the different sources can integrate into your planning software, but it's worth the extra steps as it equips you with more information to plan from. To leverage the full value of each dataset it's best if they can integrate into one planning app that accomodates them all.
3) Data Timing -- It is absolutely critical to make sure your data is current and that your software and staff can respond to ongoing large volumes of quick changes from new incoming data. Be it change orders, RFIs or other incoming information, make sure you can handle the larger volume that comes with going digital without sacrificing data timeliness and quality. This includes a system or process to easily sort out and identify what's the most current. Your data may be correct and from a reliable source, but if its old, it does you no good and can actually cost you in rework to remedy mistakes.
4) Digital Construction Data Management -- You'll need staff who are fully trained in the specific software apps you use and familiar with your various data sources. They should know how to set data standards and process for digital construction plans. Plus they need to ensure that all data can sync and integrate with each other in your software. Establishing and following digital plan standards is critical to ensuring you get the improved data you want from your tech investment. Don't overlook the importance of Construction Information Management as it's one of the most essential components to realizing the data benefits outlined above.
Partnering with Outside Expertise
In today's tight construction labor market it's not always possible for construction companies to find staff who are skilled in all the latest building plan software, or who have expertise and scope of experience in Construction Data Management. Yet, without that skilled oversight, you likely won't reap the return on investment from your software that you're expecting. If you find you need additional staff resources for specific projects, consider contacting BarkeBlue Build, a team of certified professionals who specialize in Construction Information Management across a variety of construction software platforms. Learn more about our Professional Staffing Services or contact us for a free consultation.