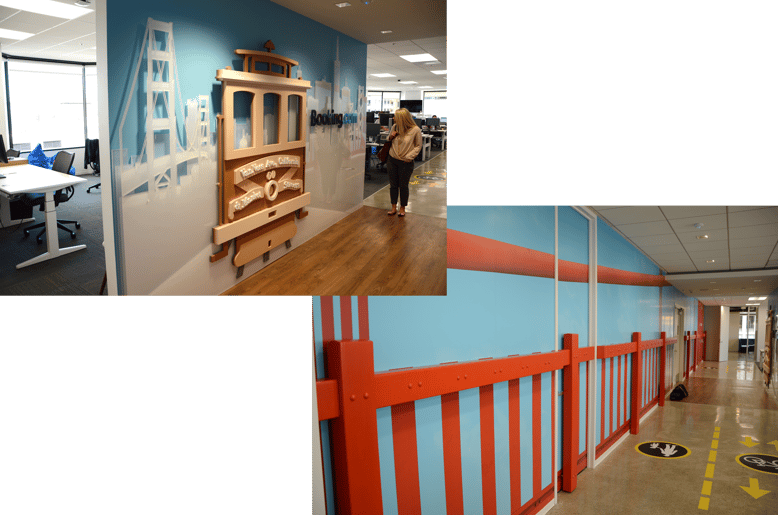 ---
We're going to be 100% honest here… These dimensional office graphics we produced and installed for Booking.com are among some of the coolest projects we have ever worked on. Don't you agree that these wall graphics, portraying the golden gate bridge and a San Francisco cable car, just look amazing?
Booking.com called on Ware Malcomb a couple of months ago to help realize their vision. Our friends over at Ware Malcom then called on BarkerBlue to help with the production and installation process for the environmental graphics. The new office build-out involved immersive graphics and dimensional pieces. Using branded elements, photography and names from local landmarks, we think that the environmental graphics really made the corporate office space immersive.
The graphics shown in the pictures above are composed by custom pattern cut materials. The materials were painted and layered to create the exciting dimensional effects. Even from only looking at the pictures, we are sure that you're able to see the dimensional effects we're talking about. The cable car literally comes off the wall towards you!
To help make the railing of the Golden Gate Bridge as realistic as possible, we worked on color-matching the graphics to the real colors of the bridge before producing and painting the materials. Our goal for the life-sized bridge railing was to create an immersive experience as realistic as possible. Both our client Booking.com and our partners over at Ware Malcomb were incredibly satisfied with the final results. And so were we!
Are you looking to provide an immersive experience to your office environments? Maybe through dimensional wall graphics, similar to the ones we helped produce for Booking.com? Contact us today for a free consultation on how we can help optimize your next project.
CALL: 650.696.2100
EMAIL: colorsales@barkerblue.com
CHAT: www.barkerblue.com (bottom left hand corner)