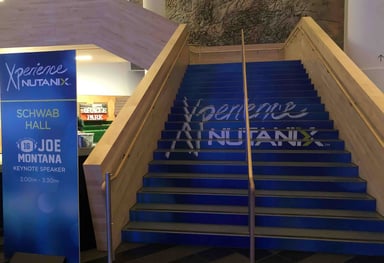 BarkerBlue Create recently partnered with Impact XM to provide stand-out event graphics for Xperience Nutanix, an event held in late August at SFMOMA in San Francisco. Impact XM is a brand engagement and experiential event agency with 50 years of credentials in live marketing for businesses.
Nutanix provides a way to modernize datacenters to run apps at any scale, and manage all cloud computing environments for a seamless experience.
Nutanix
offers an opportunity to free companies from the complexity and cost of legacy IT to embrace the power of the cloud and
IT hyperconvergence.
The Xperience Nutanix event offered an engaging agenda focused on helping companies bring together virtualization, storage, computing and networking for a simpler data center. But it didn't stop there. The event continued with exciting giveaways, local food and musical entertainment, plus a chance to meet football champion 49ers' MVP Joe Montana, who delivered the keynote speech.
And if that wasn't enough, event attendees also got treated to a performance of Beach Blanket Babylon -- SF's iconic musical production -- now in its last year on stage. Plus there was live rock music from Alter Ego during the event's "Rockin Happy Hour". One lucky winner even received an all-inclusive trip to Miami to attend the biggest football game in 2020. All this shows proof-positive that Impact XM and Nutanix met all the event branding and planning must-dos for building a highly successful event.
BarkerBlue helped power up the event branding by creating and installing all floor clings and glass displays throughout the event, as well as wayfinding meterboards to provide on-site directional guidance. Customized immersive graphics --like those displayed at Xperience Nutanix-- are now essential to ensuring your brand is memorable at events, along with keeping your audience engaged in your onsite agenda and activities. BarkerBlue specializes in collaborating with you to tailor the right graphics products to your event settings and objective in order to create the immersive effect you need to compete today. See more on BarkerBlue's event graphics, or view our full portfolio here.