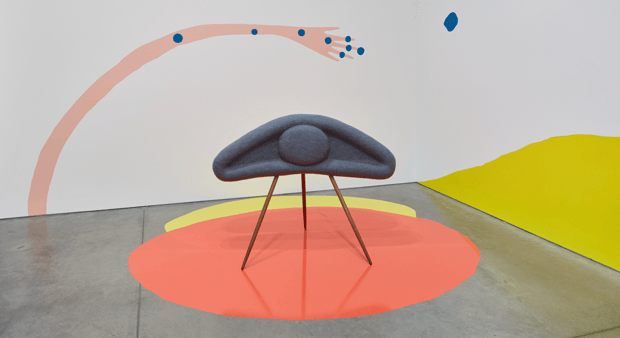 If hearts could smile they'd be grinning at the sight of Masako Miki's new exhibition at the Berkeley Art Museum (aka UC's BAMPFA). This whimsical collection of unusual and fun object sculptures is inspired by Miki's Buddhist and Shinto beliefs and practices.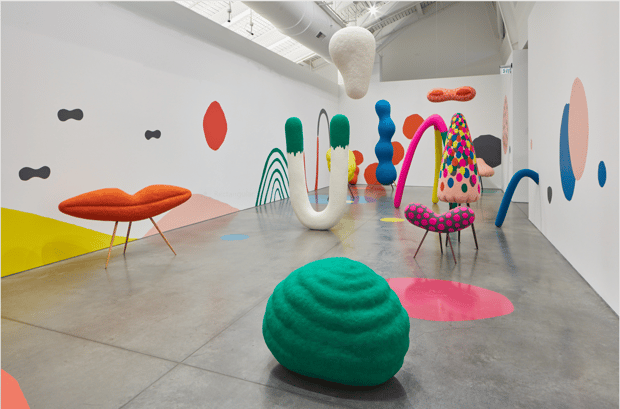 "Her current work, she says, is "inspired by the idea of animism from the Shinto belief of yaoyorozu no kami [eight million gods] who are both good and evil with a wide range of personalities." In defining this world of shifting boundaries, Miki creates larger-than-life-size, felt-covered forms drawn from the Japanese folk belief in yokai (shape-shifters) who can disguise themselves in any number of different forms. Miki creates the semi-abstract, sculptural forms utilizing brilliant colors and sets them into a magical environment suggesting another reality. The installation moves from the three-dimensional forms to abstract images on the floor and walls, conveying a sense of expanding boundaries (https://bampfa.org)."
BarkerBlue created and installed all the color vinyls throughout the exhibit. The artist hand cut shapes and BarkerBlue matched colors carefully to the exact look and feel of existing sculpture fabrics, paint and other materials. Learn more about BarkerBlue Create at https://barkerbluecreate.com.
Perfect for a Valentine's Day visit, this exhibition is on display through April 28th and is sure to lighten your heart and may even help heal a broken one.