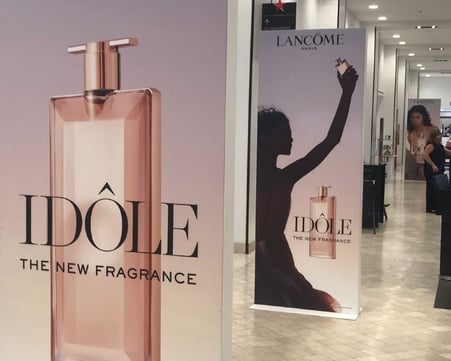 BarkerBlue recently created and installed fresh retail display graphics for "Lancome Idole" now available at Macy's San Francisco. The retail displays include multiple large freestanding signs featuring Zendaya, the young actress-singer who is a native of Oakland, CA, and started her early career in theater performances throughout the Bay Area.
"Named an ambassador for Lancome earlier this year, Zendaya appears in a new fragrance campaign for 'Idole'. Aimed at the younger consumer, she poses on a white horse wearing a peach-colored gown. With her hair in dreamy waves, Zendaya enchants for these advertisements. In addition to print images, the actress also appears in a commercial where she rides a horse throughout the city. Lancome's 'Idole' scent is described as a classic floral with notes of jasmine, vanilla, rose and citrus." (https://www.fashiongonerogue.com/zendaya-lancome-idole-fragrance-campaign/)
"According to Françoise Lehmann, Lancôme global brand president, this new generation is "questioning the status quo, breaking free from tradition and re-defining the meaning of success," and multi-hyphenate Zendaya Coleman embodies all of that in human form. The millennial pink gown she wears in the new promos perfectly matches the slim, 15mm-thick pink bottle (designed by architect and industrial designer Chafik Gasmi)." (https://www.thecut.com/2019/07/zendaya-lancome-idole-fragrance.html)
See the new cinematic Lancome commercial in this YouTube link. After viewing you may have the same three questions we had so here's the latest word on the answers:
1) Yes, Zendaya can ride horses and word has it she really is riding in the commercial footage.
2) The city she is riding through is beautiful Los Angeles.
3) No, though Zendaya is an accomplished singer, the soundtrack in the Lancome commercial is in fact "Unstoppable", by Sia.
BarkerBlue's custom display graphics for Lancome were designed with Tension Fabric extrusion and weighted bases - all powdercoat painted to white. Multiple units are on display scattered throughout the cosmetics spaces at Macy's San Francisco. They feature Fabric Graphics using silicone edging for perfect graphic presentation and ease of future change out. BarkerBlue specializes in customizing retail graphics, as well as all kinds of environmental graphics for a variety of applications and settings. Learn more at https://barkerbluecreate.com.