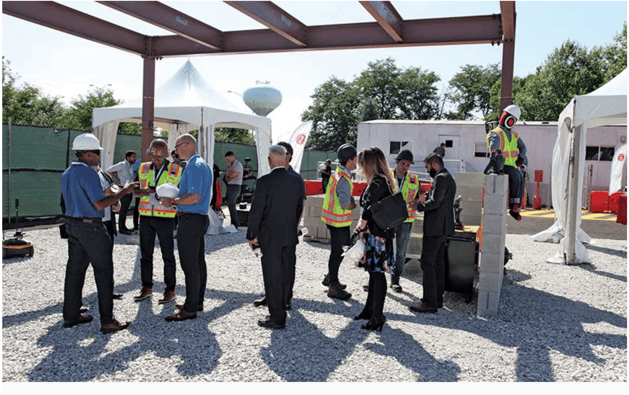 "Looking to bolster development of new technologies for construction and give industry players a place to test new products, Oracle has created a Construction and Engineering Innovation Lab. Located on the campus of the former Textura headquarters in Deerfield, Ill., the 15,000-sq-ft initial phase of the facility is designed to resemble an "in-progress" construction site, ready to be rigged with the latest in sensor and automation technology for testing and demonstration.
The initial phase of the Innovation Lab is modest—a few steel beams, a gravel floor and a double-wide construction trailer with displays and internet access. The idea is to create a blank slate construction site where different technologies can be demonstrated and elaborate sensor networks can be deployed (ENR, 8/30/18)."
Oracle is planning to expand the facility, to include a multistory hanger with a platform to view the mock jobsite. However, the current site is already proving useful for testing several devices, particularly Internet of Things technologies (IoT).
David Wilson, Chief Innovation Officer at Bechtel reports: "This facility here can bring a lot of partners together to explore, experiment and discover before we launch the technology on a real jobsite. I want to see how things like data collection, AR, VR, how all that will mesh with the drones and the robots, so we can collect and distribute that data to the workforce."
Mike Sicilia, Senior Vice President and General Manager of Oracle Construction and Engineering summarized the lab's objectives this way: "Advances in technology are reshaping the industry landscape at an accelerating pace. Our Innovation Lab enables organizations to experience firsthand how new technologies can help drive better project outcomes in critical areas such as safety, productivity and quality. We are excited to welcome our current and prospective customers, partners, the academic community and others to our Innovation Lab to help them experience the future of projects. (Oracle Press Release, 8/23/18)."
As construction companies rapidly grow into new technologies, they may not all have access to innovation labs like Oracle to test at. Remember there are other certified data experts available, like BarkerBlue, who can help manage data quality control and comparison tests to ensure new data integrates with the rest of a plan. BarkerBlue can free up your staff to focus on their build projects at hand, while we focus on the integrity of your construction information. We help construction and facilities teams better control cost, time, and risk over the entire lifecycle of a building by providing quality control, platform integration, audited fulfillment, and as-built data management of critical building information. Learn more at https://barkerbluebuild.com.