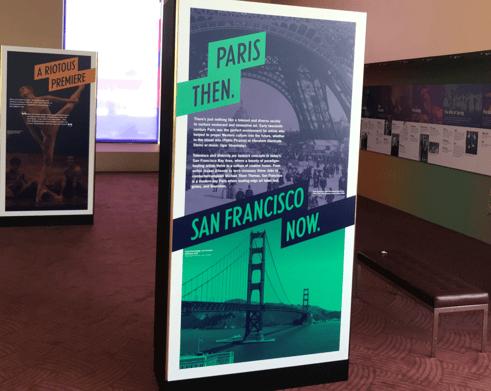 "Tolerance and diversity are bedrock concepts in today's San Francisco Bay Area, where a bounty of paradigm-busting artists thrive in a culture of creative fusion.(https://www.sfsymphony.org/Stravinskyexhibit)." In fact this artistic climate is so expected in San Francisco that many of us forget it took trailblazers to start such intertwining of the arts. This is precisely why the educational exhibits at SF Symphony's Davies Hall are so valuable.
Recently the SF Symphony featured an exhibit on the history of composer Stravinsky and Diaghilev's Ballet Russes. The exhibition's large timeline display illustrated how both men were propelled by rejection and rebellion towards innovation, and ultimately towards an outstanding collaboration that began in Paris.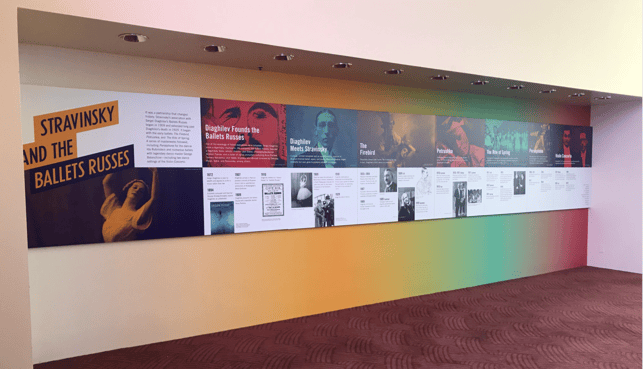 "It was a partnership that changed history. Stravinsky's association with Serge Diaghilev's Ballets Russes began in 1909 and extended long past Diaghilev's death in 1929. It began with the early ballets The Firebird, Petrushka, andThe Rite of Spring. A series of masterworks followed, including Perséphone for the dancer Ida Rubinstein and numerous ballets with legendary dance master George Balanchine—including two dance settings of the Violin Concerto. (https://www.sfsymphony.org/Stravinskyexhibit)."
BarkerBlue proudly teamed with SF Symphony to create and install the large Wall Graphics for the timeline display, as well as freestanding signs and window graphics promoting Stravinsky. Timeline graphics are a perfect way to bring a story to life, while also educating about history. Find out more about display graphics at https://barkerbluecreate.com