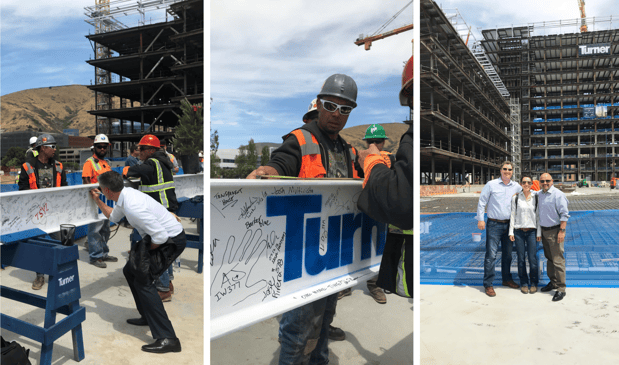 In building construction,
topping out
is a builders' rite typically held when the last beam is placed atop a structure during construction.
BarkerBlue recently joined BioMed Realty and Turner Construction in a "topping out" event to celebrate initial construction of
Gateway of Pacific
.
Nearly a decade
in the making, this new 500,000 square-foot campus will be an important addition to the SF-Bay-Area's biotech community. It's located in South San Francisco, a city with a legacy of connection to life science research. The location offers easy access to the Bay Area's rich biotech and science community.
Beginning construction of this office science-park included clearing old 1980's-style lab and office buildings from the site, previously a Bethlehem Steel facility ages ago. "Gateway of Pacific will be a significant upgrade from the older structures. The first phase of the project consists of a gleaming 12-story, 350,000-square-foot building at the southeast corner of Oyster Point and Gateway Boulevards that will be connected via an atrium to a 150,000-square-foot structure." (San Francisco Business Times)
BarkerBlue is contracted as the project-document control hub for Phase 1 of Gateway of Pacific. "We're very proud to contribute to BioMed-Gateway of Pacific," said Diana Lie, Project Manager at BarkerBlue. "We've been providing Quality Assurance and Quality Control on their construction documents, performing version control in Box, and coordinating and
maintaining a static project archive. Our hearts go into every phase of every project, and we're thrilled to be part of such an awesome new research facility.", said Lie.
The topping out ceremony celebrated Phase I construction of the multi-phase project, which includes both a main R&D office building and a 5-story amenity building. The event featured speeches from BioMed Realty executives, plus a BBQ celebration for all contributing trades and companies.
Congratulations Bio-Med Realty and Turner Construction on this Phase I milestone!